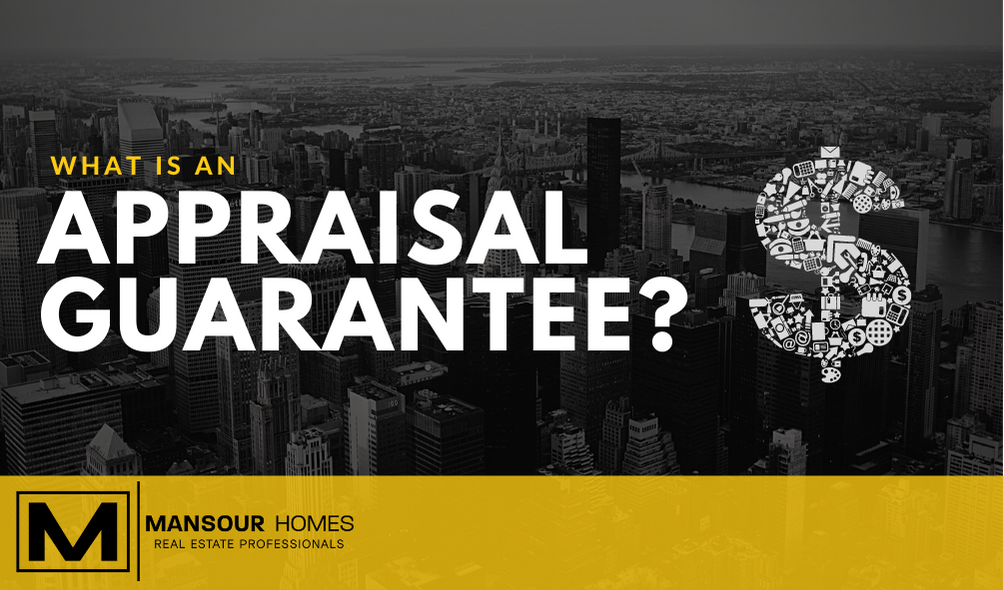 Today I'd like to discuss appraisal guarantees, sometimes called appraisal gap guarantees. If you are currently in the residential real estate market this term is sure to come up, whether you're on the selling side or buying side.

What is an appraisal guarantee? When you purchase a home using mortgage your lender will require an appraisal, which will let them know the value of the house, and that will determine the amount the bank will give towards the purchase of the house. So, if the purchase price of the home is $300,000 but the appraisal comes in at $285,000 the lender would only secure the loan for $285,000. The $15,000 difference between appraised value and purchase price would need to be renegotiated. Either the seller may agree to reduce the purchase to the appraised value; the buyer may agree to pay the difference (cover the appraisal gap); buyer and seller may agree to split the difference or may come to an agreement one way or another through negotiation; or the deal may completely fall apart.

Currently, with the market heavily leaning in favor of sellers, buyers have been using things like appraisal gap guarantees and escalation clauses to sweeten their offers. For instance, in the situation above, where there is a $15,000 difference between appraised value and purchase price, a buyer, in an effort to strengthen her offer against other competing offers, may include an appraisal gap guarantee in her offer, stating that she will cover an appraisal gap, up to a certain amount.

As in the case above, if buyer included an appraisal gap guarantee up to a maximum of $15,000 and the house appraised at $285,000, the buyer would have to pay an additional $15,000 at closing. This will be in addition to closing costs and cannot be part of the loan.

In markets with extremely low inventory, like we're seeing today, buyers are including these guarantees in their offers, along with escalation clauses, as discussed last week, to stay competitive and help push their offers to the top of the heap.

Sellers like them because it gives them security against low appraisals when accepting higher offers.

If you have questions or would like to further discuss appraisal gap guarantees or any real estate related topic please feel free to reach out to me any time.
ABOUT: Albert Mansour is a REALTOR in Metro Detroit. Specializing in buying and selling homes and commercial property. Albert Mansour has been a Real Estate Agent in Metro Detroit for just under a decade. He can be reached at albert@mansourhomes.com or (248) 444-5700.
Our focus on relationships over transactions, commitment to excellent client services, and attention to detail sets us apart from the competition. We take great pride in the level of service we provide to each and every one of our clients. Excellent client services, along with our local real estate expertise, and marketing experience create a winning combination for all of our clients."